Jurassic World: Dominion Dominates Fandom Wikis - The Loop
Play Sound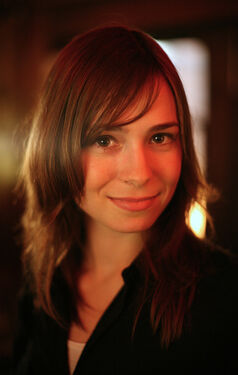 Veronica Belmont (born July 21, 1982) is the co-host of Revision3's Tekzilla with TWiT regular Patrick Norton. Previously the video host for Mahalo.com and a host for the Mahalo daily podcast Mahalo Daily, she is also a former producer and associate editor for CNET. She produced, engineered, and co-hosted the CNET podcast Buzz Out Loud.
Background
[
]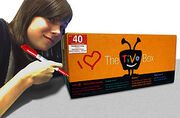 Originally from Connecticut, Veronica is the daughter of Barbara Belmont née Wruck, a former Coleco Vice President, and a father that worked for Hasbro. Growing up, Veronica had a subscription to Weekly World News and Mad Magazine, and had one wall of her bedroom covered in MAD covers.[1] She attended Emerson College, in Boston, Massachusetts, to study audio production and new media studies. She worked briefly in Boston afterwards, and eventually secured an internship at CNET. Veronica currently resides in San Francisco, California with her boyfriend Ryan Block, editor-in-chief of Engadget.
Career
[
]
CNET
[
]
Veronica Belmont started as an intern producing audio content for their business technology group. She was hired full-time six months later to produce their "First Look from the Labs" series. She also began producing Buzz Out Loud. Originally she was the sound engineer and producer of the show. Belmont's role on Buzz Out Loud had grown substantially from when she first joined the cast. She began to inject her own commentary, and, in September 2006, began to receive official cohost billing. She also was the producer and co-host of two more CNET podcasts called MP3 Insider and CRAVE Gadget Blog, which were both co-hosted by the late James Kim.
Veronica made her video debut on CNET on April 6, 2006, on an Insider Secrets segment titled "Give your PC a Mac-over". Since then, she has hosted videos from Maker Faire, CES, and South by Southwest. She was also the host of the Prizefight series. She appeared for the final time in CNET TV on 25 July 2007, in the "Apple iPhone vs Nokia N95 edition of Prizefight".[2] Her last Buzz Out Loud episode was episode Episode 521 The most awkward episode ever.
Mahalo
[
]
Belmont left CNET on July 20, 2007 to join Mahalo.[3] She is hosting and producing her own podcast called the Mahalo Daily Show covering subjects of her choosing. Her first video was an interview with Leeroy Jenkins at BlizzCon 2007.[4] On April 2, 2008 Belmont announced that she would be leaving Mahalo Daily. She went on to host Revison3's Tekzilla beginning on April 9, 2008.
Tekzilla
[
]
After leaving Mahalo, Belmont was hired at Revison3 and became the host of the listener-question show, Tekzilla, where she currently works.
Appearances
[
]
In June, 2007, Belmont was a curator at the first annual Pixelodeon Festival, alongside other web starlets like Amanda Congdon.[5]
On November 14, 2007, she was a contestant on a game show at NewTeeVee Live[6] featuring other internet celebrities such as Casey McKinnon, Cali Lewis, Kevin Rose, Justin Kan, Robert Scoble, and others.[7]
She has also made numerous guest appearances on other technology and gaming podcasts, including:
Other notable guest appearances include:
See also
[
]
References and Notes
[
]
External links
[
]