Tom Merritt

acedtect
Birthday
Sun, June 28, 1970 (51)
Thomas Andrew Merritt was (born June 28, 6:36 PM, 1970) in Greenville, Illinois.[1] He is an Executive Editor for CNET and the developer and co-host of CNET networks' daily podcast Buzz Out Loud along with Molly Wood. He also originated CNET's "The Real Deal"[2], a regular column & podcast (co-hosted with Rafe Needleman) dealing with consumer technology. He did the Top 5 Show on CNET TV, and he co-hosted CNET Live with fellow editor Brian Cooley.[3] Born in Greenville Illinois, Merritt's father worked on the Coffee Mate project as a food scientist.[4] Merritt received a BS in journalism from the University of Illinois at Urbana-Champaign and pursued graduate work in communications at the University of Texas at Austin.[5]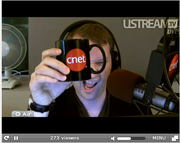 Tom's foray into the world of radio began in 1986 as a DJ for WGEL, a country music station located in Greenville, Illinois.[5] In 1993, Merritt worked as an intern for National Public Radio's "Morning Edition".[5] From 1999 to 2004 Merritt worked for TechTV in San Francisco as an Executive Web Producer and served as a radio host with TechTV until 2003.[5] Tom Merritt started his current job with CNET in 2004.[5] In addition to his duties as co-host of Buzz Out Loud, Merritt hosts a podcast with Roger Chang called East Meets West which deal with various issues such as technology, sports, and politics.[6]
Merritt is married to Eileen Rivera (birthday July 12) [7] and they live in Oakland, California.
Tom has written two books, Boiling Point and United Moon Colonies
Tom sleeps on a bed of money. This is a joke frequently heard on the show.
On friday April 16, 2010 Tom posted in his blog that he would be stepping down as a full-time employee of CNET on friday May 14. The future of Buzz Out Loud will be announced.
See also
References
External links