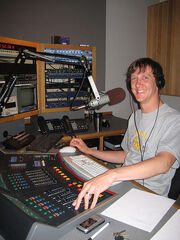 Jason Howell produces the Buzz Out Loud podcast and has become a third co-host on the show.
Early Life
Edit
In fifth grade, Jason used BBSes to find games for his Commodore 64. While doing this, he gained access to a calling card number, which he used to connect to foreign bulletin boards to get games not available in the United States. Soon after, he was visited by Secret Service agents, who confiscated his computer. There is no evidence that he ever gained access to the Department of Defense's War Operation Plan Response computer, or that he had a girlfriend who looked like Ally Sheedy.[1]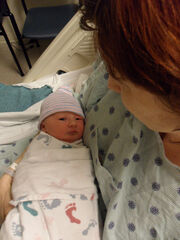 On January 29th, 2010, Jason and his wife had a beautiful baby girl; Lucy Jean Howell, or Raygun02 in #CNETFans, congrats Jason! We can't wait to see her, and have a nice time off! Tom Merritt's Congrats on the BOL Blog- [1]
Education
Edit
Jason graduated from San Francisco State University's Broadcasting and Communication Arts program with a bachelors degree in radio and television on May 23, 2004. His GPA upon graduation was a 3.97. Ten years before, he had been a freshman at Boise State University studying mass communications[2].
CNET Career
Edit
Jason came over to CNET.com from ZDNET.com to take over the role of Podcast Producer. While Veronica Belmont was still at CNET, Jason would help prepare the show, but Veronica still operated the audio board and edited the show. Upon Belmont's departure on July 20th, 2007, Howell took over the audio engineering. Jason first officially co-hosted the show on Episode 596 with Molly, dubbed the "Jollycast" by the hosts. The initial air date was November 2nd, 2007 [3]. Tom Merritt was on vacation. Howell's previous job had been at Asphodel Records in San Francisco, where he had been an intern focusing on audio engineering [2].
At the start of the September 7th, 2010 BOL episode, Jason announced he will be leaving CNET and Buzz Out Loud on September 24, 2010 to work with Tom Merritt at TWiT.
Howell is a techno/remixer who releases under the name Raygun. The musical talents of Raygun first appeared on disc with Zer0 G Records' release of The Sound of Words. A review of the album by wordandsound.net said
a two tracker… that's already drawing raves and comparisons to the work of Ricardo Villalobos and Luciano.
[4]
. His latest release, entitled
Raygun - The Remixes EP
was released on July 15th, 2007 under the East German
[5]
label Night Drive Music.
| Album Name | Label | Date |
| --- | --- | --- |
| The Sound of Words | Zer0 G Records | June 2004 |
| Hedfok | Infamous Light Recordings | November 2004 |
| Velosophy EP | Night Drive Music | March 2005 |
| Q on the Turn Remixes | Jah Love Recordings | October 2005 |
| Girl from Cuba EP | Jah Love Recordings | June 2006 |
| Bar Groove EP | Tarantic Records | January 2007 |
| Blessed Dub | Tarantic Records | May 2007 |
| Raygun - The Remixes EP | Night Drive Music | July 15th, 2007 |
References
Edit
External links
Edit
Community content is available under
CC-BY-SA
unless otherwise noted.