Molly may speak French, and Tom take his holidays on the eastern side of the Atlantic, but our favourite presenters are often far from expert in what is happening in Europe (Of course Cooley doesn't care in the first place!). A bit of local reference material seems in order.
Mobile phones: subsidies and SIM-locks
Edit
A few countries have absolute bans on the sale of GSM handsets below costs (probably an instance of a more general ban on unfair (sic) competition). These are:
The remaining countries do permit subsidised handsets. Nonetheless, following a 1996 decision by the European Commission, the lock-in should be limited to contractual terms.
The result is a limit on the length of contracts to:
France: 1 year?
Germany: 2 years
Denmark: 6 months (12 months for business plans)
Cable vs DSL
Edit
Like the US, there are some cable TV networks in Europe, but they are not present in all countries. The main cabled countries are:
Belgium (97% coverage)
Netherlands (97%)
Germany (60%)
UK (50%)
Sweden (%)
Austria
Various parts of Eastern Europe
Countries, such as France, Spain & Italy have very little cable TV. Thanks to very effective telecoms regulation, very aggressive DSL competition has led France to be the TVoDSL champion of the world.
Fibre is decidedly short on the ground. Stockholm (Sweden) is often quoted first, and there are publicly funded networks dotted around the continent. European incumbent telcos claim that fibre investment will remain thin on the ground until they are spared from regulation, like their US counterparts.
The latest EU broadbnd data from the European Commission is here.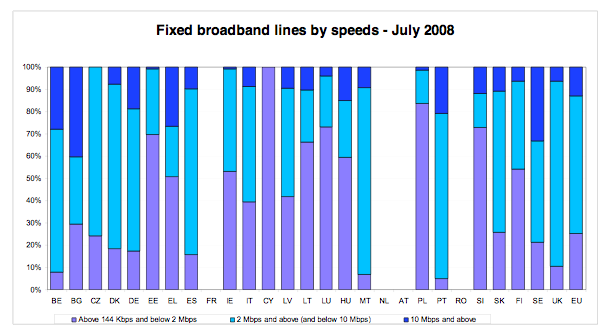 ---
Bandwidth caps
Edit
Comcast's 250GB sounds like paradise to me and it is sometimes frustrating to hear Tom and Molly complain about it. Some European bencharks are:
Belgium: Telenet (Cable provider) 20Gb, but with a tool (that has an API) telling you how much bandwidth you've used
Germany: direct customers of the two largest DSL-companies (Deutsche Telekom and Vodafone/Arcor) do have a real flatrate. Customers of Deutsche Telekom resellers have a cap of 120 GB
---
Anti-Piracy obligations on ISPs
Edit
France: Olivennes agreement including graduated response adopted December 2007, but not yet implemented - little problem of due process has stalled progress
Ireland: Eircom capitulates as part of an out of court settlement
UK: Government announced that they will consult on legislation to make ISPs help rights holders identify 'unrepentant pirates' (recommendation 13 of the interim Digital Britain review).