637 - New U.S. currency: Wii

Aired
Tuesday, January 8, 2008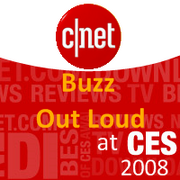 Veronica Belmont and CNET TV U.K. host Nate Lanxon sit in with us today, we save the U.S. dollar by changing our national currency to the Wii, and both HD DVD and CompUSA are--at least briefly--revived from the dead.
Watch the video version
Stories Covered
Edit
From the Phones
Edit
No voicemail today
Whither HD VMD?
Now that HD DVD is dead, all that needs to be done is to sink Blu-ray and let the kazillion-layer disc take its rightful place! Yet, I hear not a peep about HD VMD. Conspiracy? Mel Gibson and I think so. ;)
Joe in Boston (Mooninite-free since 2007)
Well Actually on iTunes Prices
Molly,
All iTunes singles are back to 99 cents (even the DRM free). Apple talked EMI to drop the price after the Amazon DRM free store launch.
Hey Here's an Idea
As you're currently at CES and...Veronica is currently at CES after listening to the Best of 2007 show, I want Veronica back on as a guest. Keep up the great show.
Ben, Ireland.
Community content is available under
CC-BY-SA
unless otherwise noted.