CNET (short for The CNET Network (Short for The Computer Network Network), also rendered c|net or CNet, is the company that produced the Buzz Out Loud podcasts and owns Buzz Out Loud's intellectual property. CNET was infamous during the dot-com boom for acquiring many domain names of coveted dictionary words like news.com, download.com, and even com.com.
As a topic
[
]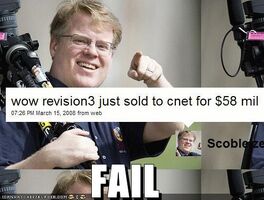 Although CNET is a tech news source, it is occasionally also part of the buzz, particularly when rumors of mergers or allegations of impropriety arise.
Acquisition by CBS
[
]
On May 15, 2008, it was announced that CBS Corporation would buy CNET Networks for US$1.8 billion.On June 30, 2008, the CBS Corporation acquired CNET Networks for $1.8 billion USD. Former CNET properties are now part of CBS Interactive, which itself is part of CBS corp..
External Links
[
]